VirtualVP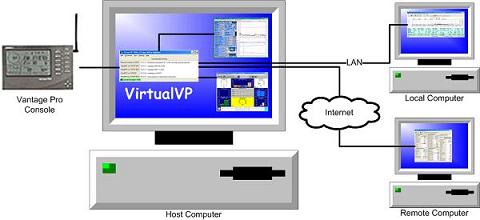 VirtualVP is a software application that lets you connect up to 4 weather programs to a single Davis Vantage Pro 1 or 2 weather station (console or Envoy). Before you download and install VirtualVP, you may want to download the User's Guide (pdf file) and read at least the overview and appendix describing the various third party drivers. If you just want to try it out as quickly as possible, download and install the N8VBvCOM driver (a link is on the Downloads page), and then download and install VirtualVP. The only configuration you'll need to do is set the COM port of your VP console in the Communications Settings of VirtualVP, and set each of the virtual consoles to use Virtual COM ports COM16 through COM19. Beginning with the next version of VirtualVP, the virtual consoles will default to those values.
You will need to change the COM port setting for any weather programs you want to connect to VirtualVP. The default installation just described will have ports COM6, COM7, COM8, and COM9 setup for this purpose. Set each weather program to use one of those four COM ports.
The VirtualVP installation program will install the full featured version of the program. The free trial period expires after 30 days. To continue using VirtualVP after the trial period, you'll need to register.
The included User Guide is for an earlier version. We are in the process of updating the manual to reflect the current version.
Visit the Downloads page to get the latest version.
Visit the Purchase page to register.